I've never been shy about loving the Chicago Mid-Century 3-Flat**. I love how within such a simple form there are endless varieties of decor – variations on materials and colors, with ornament ranging from glass block to elaborate wood doors, ironwork porch columns and built-in planters. I love how you can find entire blocks of the things, marching along with a repeating rhythm – same height, same width, same spacing, same setback, same design vocabulary – and no two are the same.
I've found only a handful that use the blue-on-blonde brick color scheme. They are simple creatures; the only place the blue brick appears on these buildings is in horizontal panels between the main windows. The standardized blue-on-blonde vocabulary that appears all over Rogers Park is not used on these structures. There are no corner piers, no grids of squares or single bricks floating on a field of beige, no horizontal or vertical bands – just a couple of big panels that work to group the large picture windows into a single element. 3-flats have their own vocabulary of style, and the blue brick becomes simply one option out of a whole range, rather than the basis for a group of elements.
3006 W. Touhy Avenue, West Ridge – Chicago. Opened by 1964. This one had its blue brick covered up or replaced with some kind of Permastone-like facing between 2009 and 2011.
That's not to say there's nothing else going on on these buildings. They have a variety of massing elements, main doors, storm doors, stairwell decorations, and entryway variations. It's just that none of those elements are distinctive to the blue-on-cream color scheme; they all appear on all kinds of 3-flats in all kinds of colors and materials.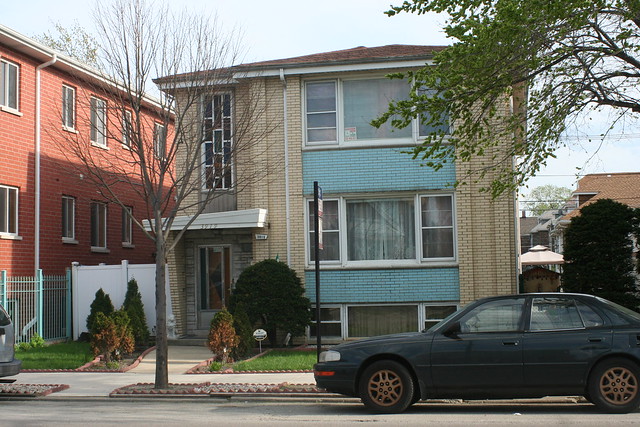 3919 W. 47th Street – possibly 1961 by Wiercioch Brothers. A delightful assemblage of parts – raised piers, gray flagstone at the door, angled brick canopy walls, an angled canopy roof, and rainbow-hued plastic windows over the stairwell.
Nevertheless, builders retained this color combo quite consistently. Blue accent brick always shows up against blonde or tan primary brick – as if every designer was choosing from a set palette or a common catalog. It's not that it wouldn't work with other colors; it's just that nobody tried it. (The inverse did happen on occasion – I've seen exactly one yellow-on-blonde building in the same style, and a couple of orange-on-blondes and tan-on-blondes. But they are quite rare by comparison.)
And anyway, this color combo does look pretty sharp – very fitting for the dressed-up era of JFK and Mad Men.

6229 N. Whipple Street, West Ridge – Chicago. With a stylish Moderne building next door.

6052 N. Fairfield, West Ridge – Chicago. Opened 1965. 
Very often, they'd drop a garage door down in the basement, rather than having a full basement or third apartment. This sometimes created rather awkward front yards.

3321 W. North Shore Avenue – with a garage in the place of the basement. This building faces a near-twin directly across the street.

6049 N. Richmond, West Ridge – Chicago. Opened 1964.

6100 N. Artesian at Glenlake – curiously, the entry door is on the side of the vestibule, facing the away from the main facade.

3510 W. Main Street, Skokie – opened 1964, by Birger Construction, who did another blue-on-blonde at 1322 W. Chase. It sports the same kind of colored plastic windows as the 47th Street building. 
If blue-on-blonde flats are uncommon, then single family houses using the scheme are vanishingly rare – to the point that this is literally the only one I've ever documented.

5300 N. Melvina Avenue – western single-family. It's a lovely little raised ranch house, with blue lining the doorway and connecting the basement windows with the large picture window above, and a couple of decorative colored glass blocks by the door. The blonde brick is Roman brick – longer and thinner than the normal 4×8 brick.
One final side note – in researching all these buildings, I finally figured out that advertisers back in the day referred to the blonde brick as "yellow brick". It's not really yellow, but I guess the name made more sense to people; it shows up in many real estate ads, so it must have been considered virtuous – clean and modern, if I had to take a stab at it.
** I use "3-flat" to mean both 3-flats and 2-flats, because for discussion purposes they're the same thing – two stories above ground, one half-basement level below. Whether that lower floor is a standard basement or another apartment generally doesn't have any influence on the building's massing and decorative style.